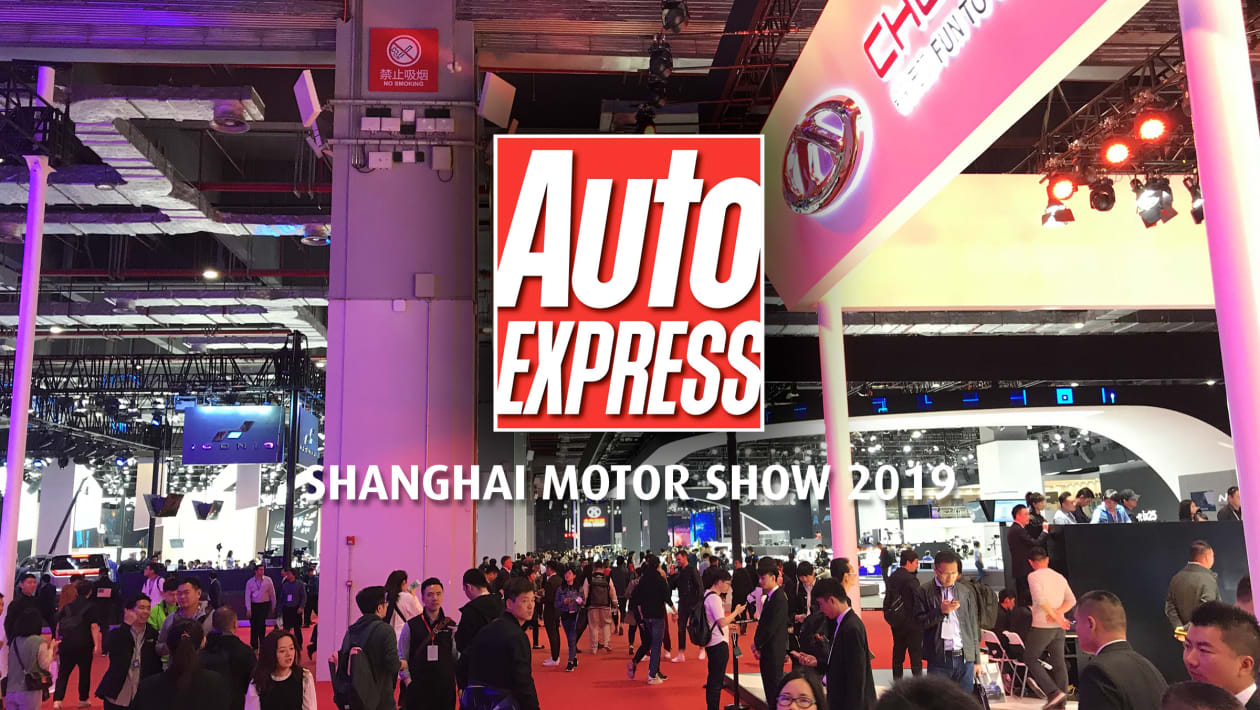 Shanghai Motor Show 2019: roundup of news and all the cars
The Shanghai Motor Show reflects just how much the recent Chinese auto boom has accelerated. In recent years, some truly high-profile launches have passed through its soil, rivaling those in Geneva, Paris and Tokyo, and this was again the case in 2019.
Given the Chinese market's recent affinity for the all-electric automobile (helped by domestic manufacturers such as Lynk & Co and NIO), there were plenty of zero-emissions and electrified offerings. The likes of Audi, BMW, Mercedes, MINI and even Lotus were Shanghai, so scroll down to read all the latest news.
Shanghai Motor Show 2019: the flagship cars
• Aston Martin Rapide E: the very first all-electric car from the British brand• Audi IA:ME: the city car concept foreshadows the future of the brand's urban mobility.• Mercedes-GL: robust concept will turn into a production model.• MINI Clubman: the facelifted version brings styling changes and customization options.• Renault City K-ZE: A small all-electric SUV could arrive in Europe.
Shanghai Motor Show 2019: Live Gallery
Scroll down to find out all about this year's Shanghai Auto Show, listed alphabetically by manufacturer…
Shanghai Motor Show 2019: AZ
Aston Martin
• Aston Martin Rapide E
The British brand unveiled its first-ever all-electric car in Shanghai. Called the Aston Martin Rapide E, it's unsurprisingly based on the standard 6.0-liter V12 car. However, it has a pair of rear-mounted electric motors that generate 602hp and 950Nm of torque.
Audi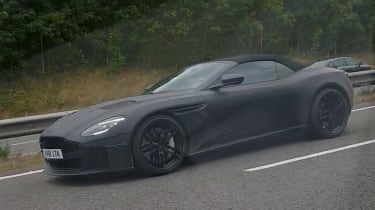 • Audi AI:ME concept
Audi unveiled the new AI:ME on the eve of the Shaghai show. The concept does not prefigure a future production model, rather acting as a design exercise that presents the German brand's vision for the future of urban mobility in the "megacities of tomorrow".
Bentley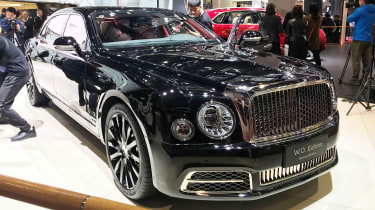 • Bentley Mulsanne WO Edition by Mulliner
Bentley is celebrating its 100th anniversary this year and as a result it is pushing its products hard. The British company presented a packed exhibition stand in Shanghai, with the limited edition Mulsanne WO Edition, the new Bentayga Hybrid, the third generation Continental GT and a 1930 Bentley 8-litre, which once belonged to the company's founder , Walter Owen Bentley.
BMW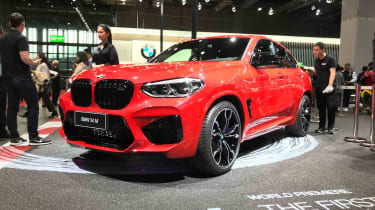 • BMW X3M and X4M• BMW 3 Series Long Wheelbase
BMW's current take on the performance compact SUV market made its public debut in Shanghai, with two new rivals for the Alfa Romeo Stelvio Quadrifoglio. Both the X3M SUV and the mechanically identical X4M coupe-SUV are offered with either a 476 hp or 506 hp 3.0-litre straight-six petrol engine and all-wheel drive.
The new long-wheelbase 3 Series sedan also burst into Shanghai. Built at BMW's Shenyang Production Center exclusively for the Chinese market, it features improved rear legroom, a panoramic glass roof and BMW's Intelligent Personal Assistant as standard.
Geometry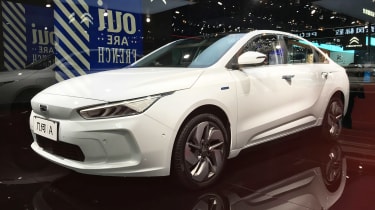 • A-geometry
Chinese automaker Geely has announced the birth of its new all-electric spin-off, Geometry. The "A" is the brand's first model, featuring a single 161hp electric motor, a drag coefficient of just 0.2375 and a 61.9kWh battery in the long-range version. As a result, Geely claims its new all-electric sedan has a range of 311 miles and a 0-62mph time of 8.8 seconds.
Infiniti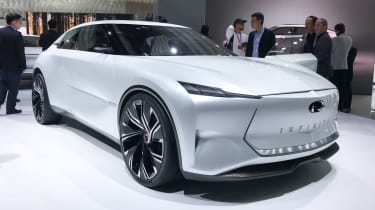 • Infiniti Qs Inspiration

need to sell your car?
Find your best deal from over 4,000 stockists and sell up to £1,000 more. It's so easy.
Note 'Excellent'

Trustpilot
Infiniti unveiled a new electrified sports sedan concept in Shanghai, influenced by both the 1989 Q45 sedan and the 2018 Q Inspiration concept. It features Infiniti's latest exterior design language and a spacious, clutter-free interior, separated into a driver-focused cockpit and a "relaxed passenger area".
Automotive Karma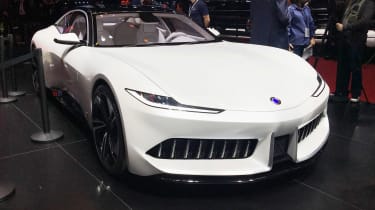 • Karma's "Big-Three" Formation
California-based Karma Automotive has teamed up with Italian design house Pininfarina, bringing three new models to this year's show. This low-slung two-door GT took center stage, accompanied by a next-generation Revero sedan and a concept called Karma SC1 Vision. The models aim to push the Karma brand into the global EV market, with a product lineup rivaling that of Tesla and NIO.
Lotus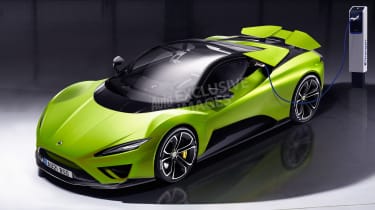 • Lotus Type 130 fully electric hypercar• Lotus Evora GT4 Concept• The new Lotus sports car will arrive in 2020
Lotus took advantage of the Shanghai Motor Show to confirm the existence of its next all-electric hypercar. Scheduled to launch later this year, it will act as a rival to the Pininfarina Battista, with an expected output of around 1,000hp, thanks to a unique battery and electric motor system.
While the British firm had something tangible at the show, Lotus also unveiled a new Evora GT4 Concept. Built on the same lightweight aluminum chassis as the road-going Evora, it features a 443hp 3.5-litre supercharged V6 engine, carbon fiber body panels and a suite of advanced equipment. FIA-compliant safety.
mercedes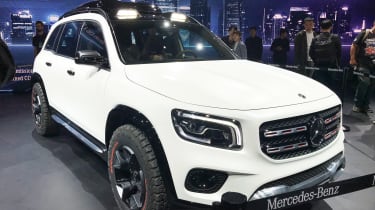 • Mercedes-Benz GLB-Concept
Mercedes showcased the latest addition to its growing SUV lineup in Shanghai with a new BMW X1 rival. Called the GLB, it's based on the same underpinnings as the company's Class A and Class B sedans, but fitted with a boxy twin-box body, taller ride height and a range of plastics. sturdy exteriors. It was previewed in concept form, but it will turn into a full production model.
MINI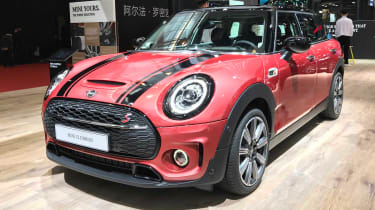 • MINI Clubman facelift
MINI has brought a facelifted version of its barn-door Volkswagen Golf rival to Shanghai. The revisions are subtle, much like last year's MINI hatch redesign, but a new set of alloys, new headlights, updated badging and the company's trademark Union Jack LED taillights are all present.
Mitsubishi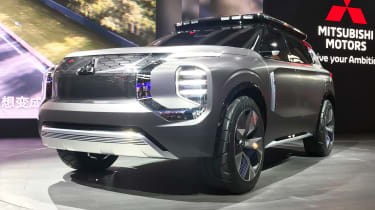 • Mitsubishi E-Yi Concept
Essentially a redesigned version of the Engelberg Tourer, the Mitsubishi E-Yi Concept is a plug-in hybrid powered, all-wheel-drive three-row SUV designed to cope with life in Shanghai. The powertrain consists of a 2.4-liter four-cylinder gasoline engine and an electric motor, which provides an all-electric range of 43 miles and a full range of over 400 miles.
NIO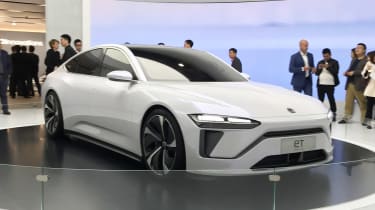 • NIO ET sedan
Chinese electric car maker NIO presented a new fastback sedan at the show. Called ET, the sleek-looking five-door coupe is fully electric and will join the ES6 and ES8 SUVs in the brand's lineup.
Porsche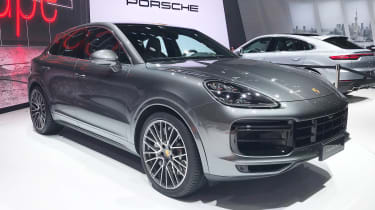 • Porsche Cayenne Coupe
Porsche recently jumped on the coupe-SUV bandwagon, producing a direct rival for the BMW X6. It made its Asian debut at Shanghai this year, offered with either a 330hp 3.0-liter petrol V6 or a 534hp turbocharged 4.0-liter V8. Styling-wise, it gets a steeper roofline, a redesigned trunk lid and a pair of new rear spoilers.
Renault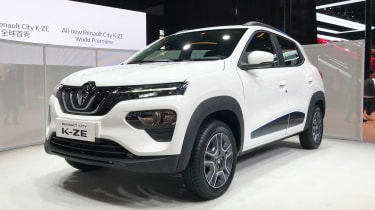 • Renault City K-ZE
Renault has unveiled its new 100% electric city car inspired by SUVs, called K-ZE, around the world. Due to being built in China (following the Renault Alliance's joint venture with Dongfeng), it has a claimed range of 155 miles, making it competitive with the recently announced Honda e Prototype. It will arrive in Chinese showrooms in 2019, before being rolled out worldwide.
Toyota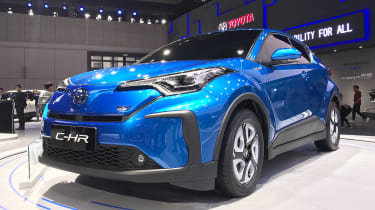 • Toyota C-HR EV
Toyota unveiled a new all-electric compact SUV in Shanghai, called the C-HR EV. The new model gets a revised nose with a shuttered grille, setting it apart from its conventionally powered siblings. It is the first purely electric vehicle to launch on Toyota's New Global Architecture platform, shared with the Prius and Corolla, and will be a key part of the company's China expansion strategy.
volkswagen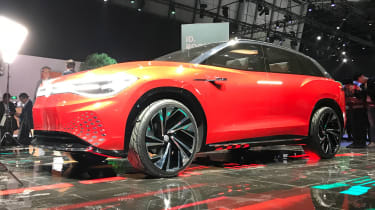 • Volkswagen ID. Roomzz• Volkswagen SUV range unveiled
Scheduled for a Chinese market launch in 2021, the ID. Roomzz is a full-size SUV designed to sit above the ID. Crozz in Volkswagen's growing all-electric lineup. It's built on Volkswagen's all-electric MEB platform and features configurable interior seating, level-four self-driving capabilities and a set of rear-opening suicide doors.
Which new car do you think was the star of the Shanghai Motor Show this year? Let us know in the comments section below…