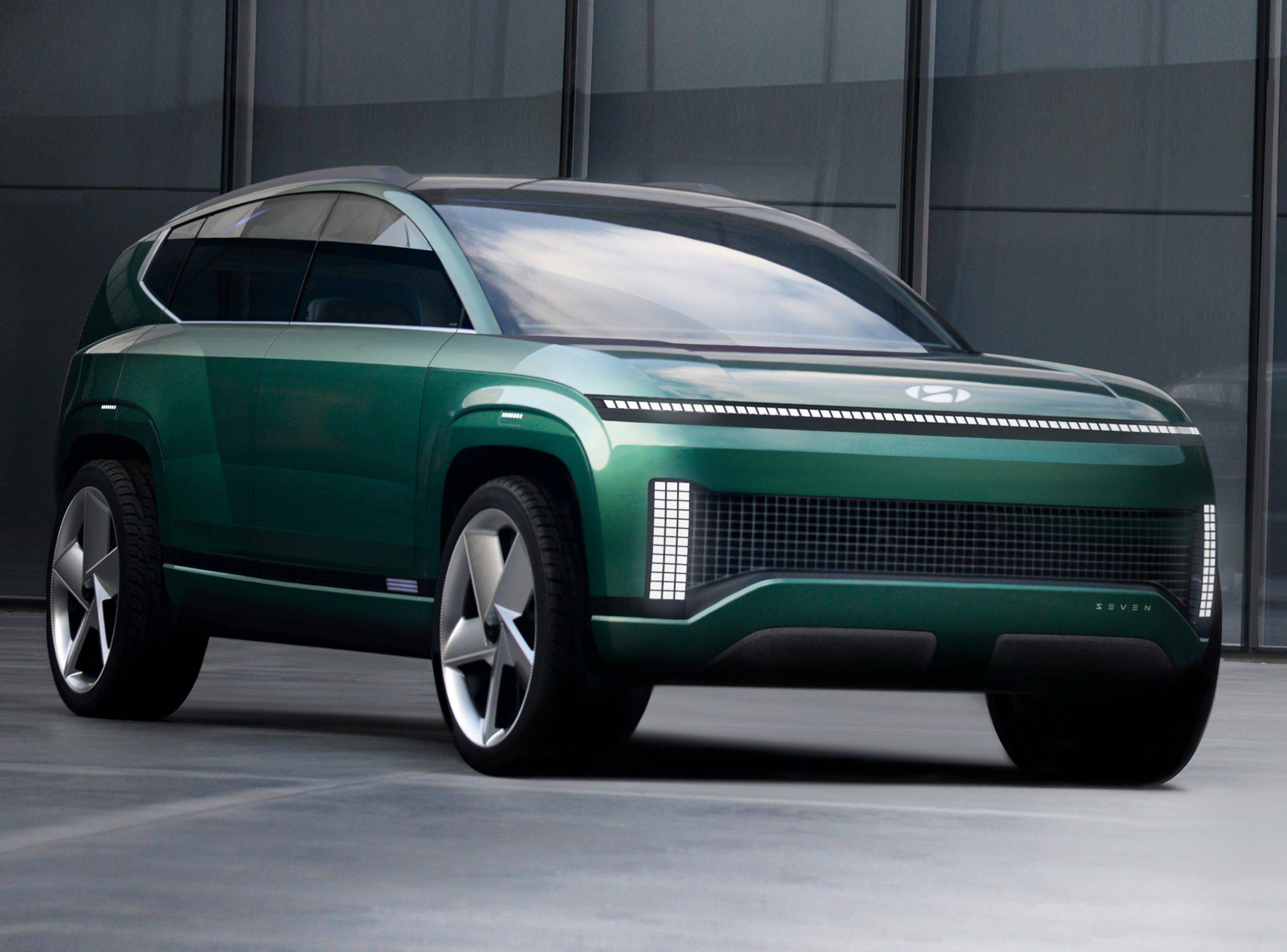 Hyundai SEVEN concept unveiled at LA Auto Show, will spawn production electric SUV in 2024
Neo-retro design like the IONIQ 5 EV.

The pixelated light bars give an 8-bit type video game feel.

Sloped roofline, unlike other SUVs.

Outward-opening Rolls-Royce type doors.

The lounge seating inside is typical of a concept car.

Gets UVC disinfection lamps that clean the cabin after the occupants exit.

Based on the same E-GMP platform as IONIQ 5 and Kia EV6.

Will be launched in 2024.
With the SEVEN concept, Hyundai has clearly defined its major plans for the IONIQ brand. Revealed at the 2021 Los Angeles Auto Show, it sets the stage for an upcoming electric SUV that will be the same size as the Palisade and likely arrive in 2024.

The SEVEN is incredibly eye-catching thanks to its neo-retro design. The shape is quite similar to the cars we see on the road today. However, the clean lines of the bodywork and the light bars all around (which mimic an 8-bit-like pixelated video game) tell you that this is a vehicle for the future. The roofline also tapers quite aggressively towards the rear, unlike road cars. It's something you expect from a coupe but not from an SUV.
To be honest, the SEVEN really doesn't feel like a concept. If we were to watch it on the road, it would feel different but not out of place. But that changes when you take a look at the cabin.

Inside, there are lounge chairs in the first and second rows, with a wrap-around sofa-like setup where you expect the third row. The roof features a panoramic OLED display so passengers can view their favorite content right above their heads. The doors open outwards like a Rolls Royce.

To fly the SEVEN, you have a joystick like in an airplane. Of course, that's not how you'll drive the actual production version. Inside, there's a mini-fridge, a shoe-care compartment, a swanky airflow system (to separate the air between front and rear passengers), and UVC lights (which sanitize the inside once the passengers leave the car). Recyclable materials like mineral plaster and bamboo were used in the construction.

The SEVEN concept is built on Hyundai's dedicated global electric modular platform, which also underpins the IONIQ 5, Kia EV6 and Genesis GV60. Although the automaker hasn't revealed exact battery specs, it says the SEVEN can travel around 300 miles on a single charge, and can charge 10-80% using a 350kW charger. in just 10 minutes.

We want Hyundai to keep the low roof lighting and design intact in the production version. It might not just be our wacky fantasy, given the IONIQ 5's styling. to the actual car.