Geneva Motor Show 2019: latest news
The Geneva Motor Show is now open to the public after a manic few days for the press and industry. It's a spectacle of contrasts in 2019 as major manufacturers continue to focus on electrifying their mainstream models while the luxury and supercar space continues to shock with incredible new models in all shapes and sizes. sizes, and all kinds of prices.
Below is a look at the most interesting cars from this year's Geneva show, and it's a big one, with revitalized favourites, dramatic line-up extensions and a renewed focus on desirability and performance within 'a global automotive industry that continues to grow increasingly diverse. directions.
Geneva Motor Show 2019: the star cars
Aston Martin 003 project: Aston Martin's mid-engine hypercar will slot under the Valkyrie.
Aston Martin Vanquish Vision: It's the real star of the show, showing off rival supercars, with a high-tech twist.
Ferrari F8 Tribute: Ferrari's new mid-engined V8 supercar borrows the engine from the 488 Pista.
Pininfarina Battista: The Italian design house will launch its very first branded car – with 1800 hp.
Honda Urban EV: Honda's EV sedan aims to make electric cars cool.
Lamborghini Aventador SVJ Roadster: Just a 760 hp Lamborghini convertible
Geneva Motor Show 2019: A to Z of manufacturers
Aston Martin Lagonde
Aston Martin might have stolen the show, with not one, but two mid-engine supercars the company plans to introduce by 2022. The AM-RB 003 is the first, and potentially a rival for the next successor. McLaren's P1 as an extremely powerful, yet still usable hypercar for the road. Aston insists it's very close to the car we'll see on the road, which will also share much of the Valkyrie's more powerful chassis development, if not its V12 engine.
But it's the Vanquish Vision concept that's the most exciting prospect here – previewing a future aluminum-framed supercar to rival production supercar models like the McLaren 720S and Ferrari F8. It will share its base V6 powertrain with the 003, in both cases hybrid, but on different levels.
Aston Martin's electric vehicle brand Lagonda also presented a Lagonda SUV concept in Geneva – with a clear preview of what and how the British manufacturer is planning its luxury cars of the future. Not to be confused with the arrival of the Aston Martin DBX later this year, the Lagonda SUV's design would emphasize its electric underpinnings and have a distinct aesthetic from its internal combustion siblings.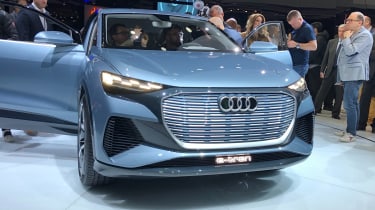 Audi
Audi's stand in Geneva had a very clear EV stance with no performance models on display other than a special-edition Audi R8. The concept shown is its future MEB model in near-production form, a small SUV called the Q4 e-tron.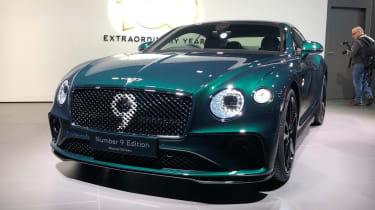 Bentley
Mazda's string of interesting and exciting new cars is set to continue, teasing a new compact SUV crossover to join the recently revealed Mazda 3 hatchback. To be called the CX-30, it will sit between the CX-3 and the CX-5, but will feature the brand's next-generation Kodo design language inside and out. It will also feature Mazda's latest Skyactiv-X compression and spark ignition power unit which will be seen in the new Mazda 3 towards the end of this year.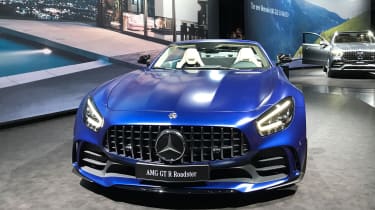 mercedes
Mercedes brought a mid-level GLE 53 AMG variant to the Geneva show, alongside an expected mid-life facelift of the smaller GLC SUV. Mercedes has also chosen Geneva for the European debut of the new CLA, with the arrival of the Shooting Brake variant, completing this small corner of the new A-Class range. Finally, Mercedes-AMG has finally combined the heartbreaking GT R with a convertible body, to create the GT R Roadster.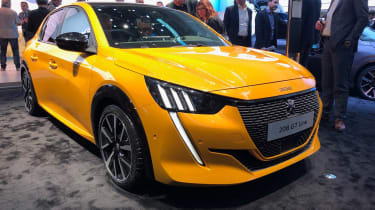 Peugeot
Peugeot has had a major Geneva motor show as its most important model, the 208 supermini, will be completely refreshed. Built on an all-new platform, with all-new interior, styling and powertrains, the model is bound by both a next-gen GTI and a full EV model. Peugeot also brought its next generation of hot Peugeot Sport models to Geneva, with the 508 PSE nearing production, boasting over 400bhp from its hybrid powertrain.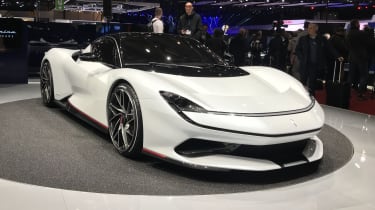 Pininfarina
The Italian design house presented its first-ever marquee car at the Geneva Motor Show, in the form of the Battista – a 1,783bhp all-electric hypercar. Costing between 2 and 2.5 million euros, the Battista will use a powertrain borrowed from Rimac, one of the industry's most impressive electric motor and battery developers. It is presented in three very different versions in Geneva.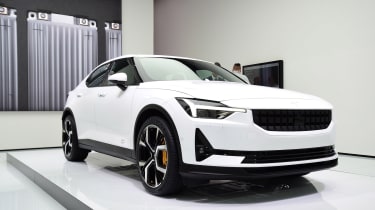 The North Star
Polestar's second model, creatively called Polestar 2, may not have the flagship power figures or svelte bodywork of the Coupe 1, but will undoubtedly be the most important new model for the brand as it targets its flagship model. all-electric output direct to the Tesla Model 3 and more traditional compact executive offerings.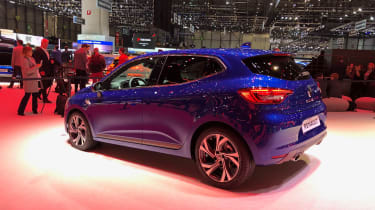 Renault
The all-new Renault Clio has already been unveiled, and it too will be launched with a new platform and an innovative design. The current Clio, despite the relative disappointment of the Renault Sport version compared to its wonderful predecessor, was actually an extremely successful model for the brand, so the exterior is little changed from the current generation. The interior, however, has been completely redesigned, centered around a new portrait-style floating screen that dominates the entire dashboard.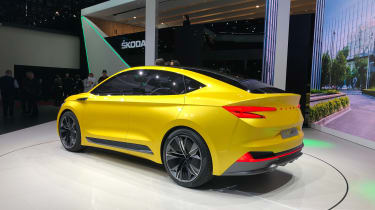 Skoda
Skoda's small B-segment SUV, the Kamiq, is the brand's flagship title, but the Czech marque is also unveiling a coupé version of its upcoming all-electric SUV. Although it's a concept at this point, it's a pretty good indication of what to expect when the production version hits showrooms in 2020. The upcoming electric platform SUV Skoda's MEB will also be presented in coupe and concept form. Expect a production model soon.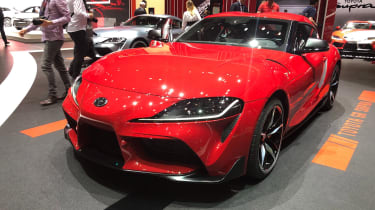 Toyota
The new Supra is one of the real stars of the show, despite being revealed late last year. It's the first time the new sports car will be seen in public in Europe and represents what we hope will be just the beginning of Toyota's renaissance. UK versions of the Corolla and RAV4 will also be on display, but both enjoy good reputations compared to their rather lukewarm predecessors. There are even rumors of a hot Gazoo Racing Corolla sedan arriving, but that's still a long way off according to Toyota insiders.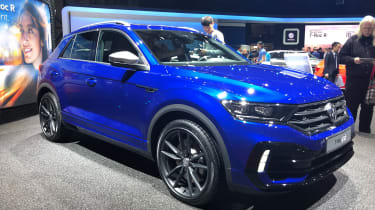 volkswagen
Volkswagen showed off the ID Buggy concept in Geneva this year, inspired by the 1970s Meyers Manx buggy but powered underneath by an electric powertrain that will also be used in VW's upcoming ID range. The new Passat will also be there, with its subtle technical and styling upgrades, but VW's big reveal, the next Golf, will arrive later this year. VW's hot T-Roc R will also be there, a Golf R with added height perhaps, but also skepticism.