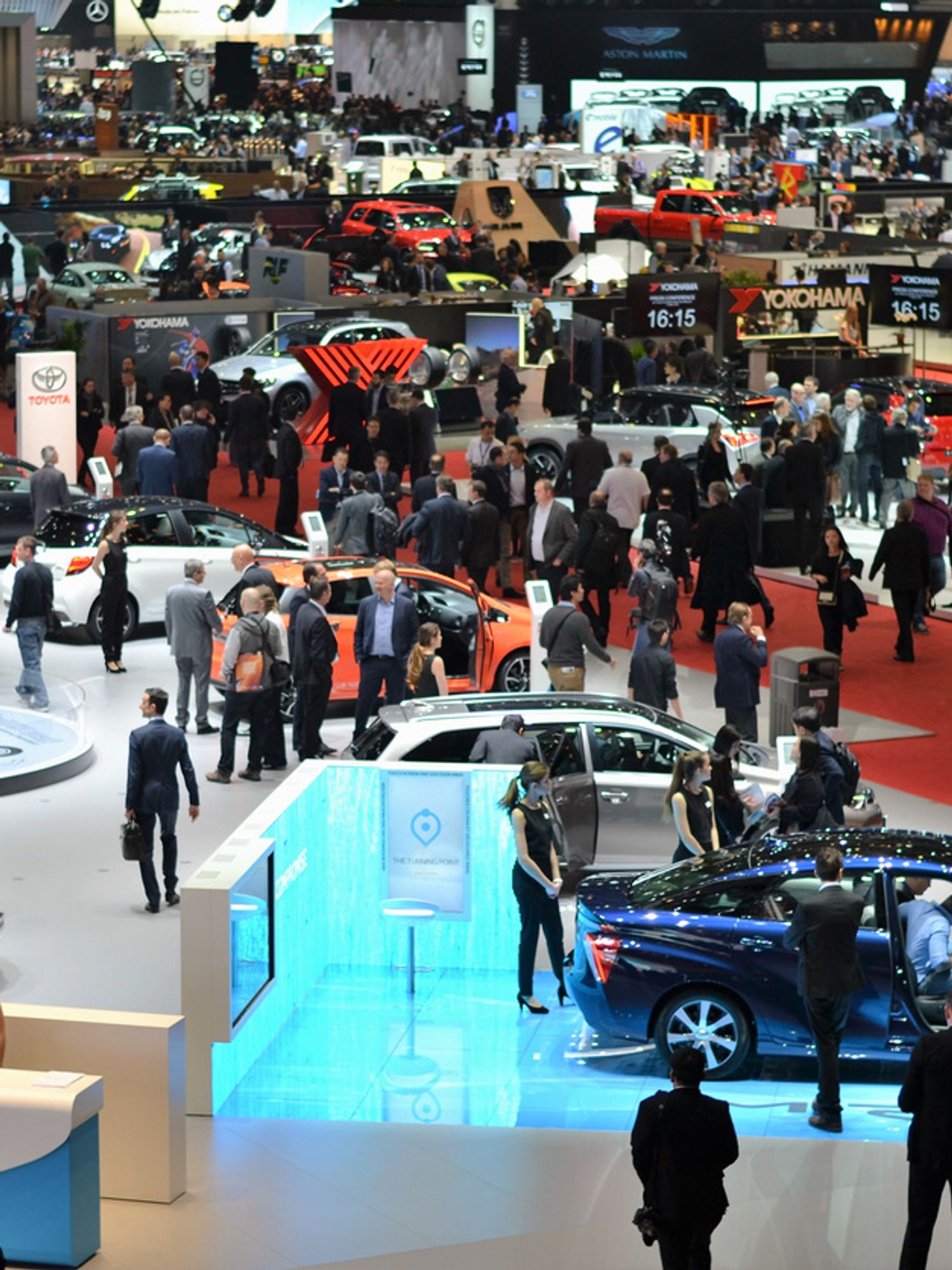 Every new electric and hybrid vehicle at the 2020 Geneva Motor Show (Update: canceled due to coronavirus)
UPDATE:
On February 28, organizers of the 2020 Geneva International Motor Show said the event had been canceled due to the coronavirus, which was first detected in Switzerland earlier this week. The announcement came hours after the Swiss government announced a ban on all public and private events with more than 1,000 attendees until at least March 15. Motor show organizers say the event cannot be postponed and therefore will not take place at all. in 2020.
Exhibitors whose stands were almost full before the weekend were only notified on Friday morning, three days before the doors opened, and will now have to dismantle their stands and return home.
Interviews and press briefings have been postponed until at least next week in most cases, with some manufacturers opting to delay the launch of new vehicles by a few weeks or more. Many of the vehicles highlighted below will launch and go on sale as normal, but without the fanfare of the Geneva Motor Show, which was due to mark its 90th edition next week.
Original story
Considered for decades as the highlight of the motoring calendar, the Geneva International Motor Show takes place next week in Switzerland and opens its doors to the press on March 3.
The 2020 show is expected to feature more electric and hybrid cars than ever before, ranging from small city cars like the Fiat 500e to multimillion-dollar plug-in hypercars like the 3D-printed Czinger 21C.
Read more:
ChargePoint Home Flex (EV) Electric Vehicle Charger up to 50A, 240V, Level 2 WiFi Enabled EVSE, UL, Energy Star Listed, NEMA 6-50 Plug or Hardwired, Indoor/Outdoor, 23ft Cable
While there is still plenty to be excited about, several major manufacturers have opted out of attending the 2020 show. These include Jaguar, Land Rover, Citroen, Peugeot, Lamborghini and Vauxhall.
To be clear, no manufacturer pulled out due to fears over the coronavirus, which was the reason for the possible cancellation of the Mobile World Congress in Barcelona, ​​which was due to take place just a week before the motor show. . Instead, automakers are increasingly choosing to hold their own launch events instead of sharing the headlines with everyone.
But with almost everyone in attendance, Geneva remains the motor show of 2020, and it will be packed with exciting new plug-in cars, as well as visions of the autonomous and 5G-connected future.
As always, manufacturers tend to show off their new vehicles before Geneva itself, so here's what we know so far. We'll update this article as more details are revealed by March 3.
Always U5
Chinese electric vehicle company Aiways will bring three cars to GenevaAlways
The Chinese electric car startup Aiways will present three new cars on its stand in Geneva. The first of these will be an SUV called U5. With a range of 295 miles, it's likely to be a budget alternative to more upscale electric SUVs from Audi and Mercedes.
The second car on the Aiways stand couldn't be more different. Called Gumpert Nathalie, it will be the world's first methanol-powered electric hypercar, with the promise of nearly 800 horsepower, a 0-60mph time of 2.5 seconds and a top speed of 190mph.
Finally, Aiways will unveil a new electric concept car called the U6ion, but nothing else is known about it yet.
AP-0 Summit
Apex has teased an electric hypercar called the AP-0Mountain peak
After the AP-1, the new AP-0 is a British electric supercar intended to take on the Lotus Evija. Apex says the car will weigh just 1,200kg – an extraordinary claim given the weight of electric car batteries – and, as has quickly become standard, the car will have a 0-60mph time of less than three seconds.
Street legal but intended primarily for trail use, the AP-0 should be a zero-emissions alternative to the likes of the Ariel Atom and KTM X-Bow. All we have so far is a teaser image, above, released by Apex ahead of the car's big reveal on March 3.
BMW Concept i4
Teaser image of the upcoming i4 electric conceptBMW
BMW announced a few days before Geneva that it would use the show to unveil a new electric concept called the i4. This car will likely be a mid-size sedan aimed directly at the Tesla Model 3 Performance, thanks to BMW's 523 horsepower and offering what the company describes as a "dynamic, clean and elegant" design.
The car will be powered by an 80kWh battery, have a 0-60mph time of around four seconds and a range of up to 373 miles. It will also have a maximum charging rate of 150 kW, but is not expected to arrive in dealerships until 2021.
Czinger 21C
The 21C is designed and 3D printed in Los Angeles, CACzinger
Los Angeles start-up Czinger (pronounced with a silent "c") is bringing its freshly revealed 21C to Geneva. It's a hybrid hypercar that combines a compact twin-turbocharged V8 engine with a pair of electric motors. Performance will be outrageous, with a total output of just over 1,200 horsepower, a weight of just 1,233kg and a Tesla Roadster-equaling 0-60mph time of 1.9 seconds.
Even more impressive is the claimed 0-186mph (300kph) time of 15 seconds and top speed of 268mph. What also sets the Czinger apart is how 3D-printed its body and chassis are. This so-called additive manufacturing technique could have a drastic effect on how cars will be made in the future, as it saves weight and reduces waste.
The car places its driver in the middle, with a passenger seat directly behind him, like a fighter jet. The prices after customization will be on the other side of 2 million dollars.
Fiat 500e
A new version of the 2017 500e, pictured, is expected in GenevaDecree
At the other end of the automotive spectrum, Fiat will introduce a new electric version of its chic 500 city car. The company sold a 500e exclusively in California, but now intends to sell the new model more widely. We don't know anything else about the car just yet, but it will likely compete with other retro-inspired EVs from Honda and Mini.
Mercedes-AMG GT 73
Although not yet confirmed for its Geneva debut, Mercedes is expected to unveil the AMG GT 73 soon, a four-door luxury sedan with an 800-hp hybrid V8. Despite the monstrous power output, the car should have at least some green credentials, thanks to the hybrid system and an electric range of around 30 miles.
Mercedes CLA and GLA plug-in hybrids
The Mercedes stand will also showcase a pair of plug-in hybrids as part of its CLA compact sedan and GLA crossover product lines. Compact 1.3-liter engines will be mated to a 101-hp hybrid system to produce 215 horsepower and around 35 miles of electric-only range.
Polestar Precept
The Polestar Precept electric concept carThe North Star
Polestar is owned by Geely, the Chinese company that also controls Volvo and Lotus. Considered a relative of Volvo, Polestar will use Geneva to unveil a new concept car called Precept. Slated to be powered by the same twin-motor electric powertrain as the upcoming Polestar 2, the Precept will be a preview of the company's future design language.
Polestar has teased some details of the Precept, including an interface with eye-tracking technology, the same Google-powered operating system as the Polestar 2 production car, seat fabrics made from recycled plastic bottles and body panels in 'ampliTex', a new material made from woven flax fibres.
Renault Morphoz
The Morphoz is a modular concept car from RenaultRenault
Renault will take advantage of the Geneva Motor Show to unveil a new concept called Morphoz. Described as a "modular vehicle", we know very little about it yet, but it will almost certainly be electric, and some of its styling should eventually carry over to commercially available Renault cars.
Renault Twingo
The new electric Renault Twingo ZERenault
Also on the Renault stand, we expect to see a new electric version of the French company's Twingo compact city car. Sharing a platform with the Smart EQ ForFour, the new electric Twingo will likely use the same 80 horsepower motor and 17.6 kWh battery as the Smart. Range is a claimed 143 miles using the WLTP test cycle.
Rimac C_Two
A production version of the Rimac C_Two will debut in GenevaRimac
Another electric hypercar bound for Geneva is Rimac's C_Two. We saw this car in prototype form in 2018 and 2019, but for the 2020 show Croatian company Rimac says it will unveil the production-ready version and announce its new name.
Unrestrained acceleration and a top speed of over 250 mph are a certainty, as is an asking price of around $2 million. What interests us most are Rimac's claims that the car will offer level four autonomous driving and use it to help teach owners how to improve their lap times on the race track.
Skoda Octavia vRS hybrid
Back to normality once again, and we have a new hybrid version of Skoda's Octavia vRS sedan and wagon. We're expecting to see a compact 1.4-liter engine working with a motor and battery to create around 250 horsepower. It is not yet known what the all-electric range of the car could be.
Skoda Vision IV
Skoda's stand will also showcase a production-ready version of the company's electric Vision iV concept. A motor on each axle should see around 300 horsepower, and Skoda says the concept's 83 kWh battery is good for a range of 310 miles. We hope those numbers hold up for the production-ready version that debuts in Geneva.
2020 Toyota Yaris hybrid
Finally, Toyota should take advantage of the Geneva Motor Show to announce a new version of its Yaris sedan, with a hybrid option for the first time. Nothing else is known about this car at this time.
BOSS Audio BVCP9685A Apple Carplay Android Auto Car Multimedia Player – Double Din Autoradio, 6.75″ LCD Touchscreen, Bluetooth, MP3 Player, USB Port, A/V Input, AM/FM Autoradio