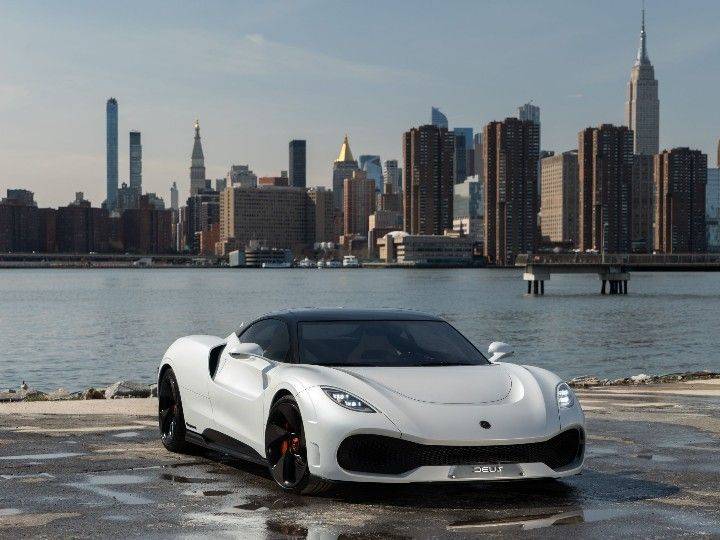 Deus Vayanne electric hypercar unveiled at 2022 New York Auto Show with 2,200hp powertrain
Can reach 0 to 100 km/h in 1.99 seconds with a top speed of over 400 km/h.

Gets a sleek, minimalist body, with slim headlights, cool alloy wheels and chic connected taillights.

The entire cabin is made from durable materials.

Only 99 units will be made, with deliveries beginning in 2025.
Those who have not heard Deus Automobiles is understandable because the Austrian automaker was only established in 2020. And it certainly caught the eye on the opening day of the 2022 New York Motor Show, unveiling the Vayanne electric hypercar. And this new player in the EV hypercar space isn't here for fun. In fact, he's about to shake up the pecking order a bit.

Being an EV hypercar, let's get to the juiciest part which is under the hood. Vayanne is capable of making a whopping 2200PS of grunt and over 2000Nm of twist. If that's not enough, it can sprint to 100 km/h from a standstill in just 1.99 seconds and can peak at speeds over 400 km/h. But there is a little catch in all of this. Those numbers are predicted according to the automaker, and we haven't yet gotten detailed specs of what exactly that electric powertrain setup is.

Luckily, these predicted numbers don't seem worrying because the Deus Vayanne has some big names involved behind the scenes, with Italdesign and none other than Williams Advanced Engineering. Yes, it's the same entity linked to the Williams Racing Formula One team, so we can be sure the Vayanne will sport some interesting performance tricks.

For a hypercar with such stratospheric figures, it looks quite sleek and minimalist on the outside, which is nice compared to the incredibly cluttered speed demons we see today. The sleek headlight configuration, chic alloy wheels along with a futuristic rear end where the taillights wrap around the entire rear make this an exotic hypercar.

As "green" as the Dayanee is under the hood, the same can be said for the cabin, as everything is made of durable materials. That aside, it has a cool layout with a racy steering wheel, digital instrument cluster, touchscreen infotainment system, and sleek ambient lighting layout.

Of course, the Deus Vayanne shown is not the final production specification model, but it certainly looks close to one. It will also be a fairly exclusive offering, with the electric hypercar being limited to 99 units. Unfortunately, the wait will be very long for those who want to get their hands on it, as the first deliveries will begin in 2025.